Our Services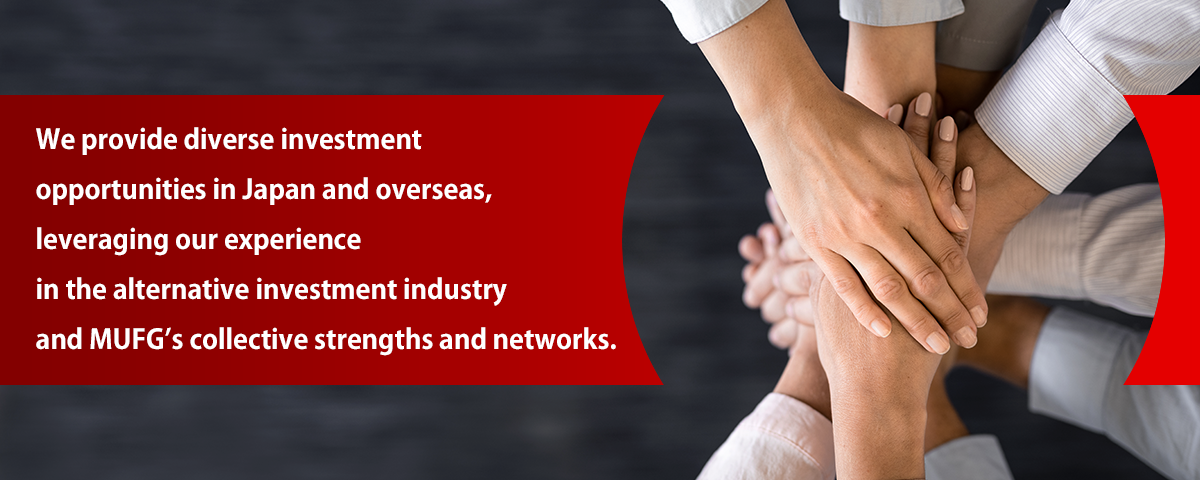 We are fully licensed to provide investment management services,
investment advisory and agency services,
and Type 1/Type 2 financial instruments business services,
thereby enabling us to meet the various investment needs of investors.
Investment Advisory ServicesDiscretionary Investment Management of
Alternative Investment Strategies
Trusted by Investors
We provide alternative-focused investment management strategies and provide discretionary investment management services. With support from our investors, including pension funds and endowments, both the number of Discretionary Investment Advisory Agreements and AUM have steadily increased, despite major institutional and environmental changes, such as the transfer of management of Japan's public pension fund back to the government and the dissolution of certain employee pension funds.
Disciplined Investment Management Processes and Strong Risk Management
We place great emphasis on disciplined and consistent processes in adopting investment strategies. We rigorously work to identify and explain the risks involved with each strategy. Once the investment is made, we support investors through conducting continued qualitative and quantitative monitoring of the investment and providing solid and detailed risk management and reporting.
Securities ServicesSales and Management of
Alternative Investment Products
Strong Presence as a Placement Agent
Since our founding, we have acted as a placement agent, introducing infrastructure funds, real estate funds, hedge funds, private equity, commodities and energy products to domestic banks, insurance companies, government-affiliated financial institutions, endowments and corporations.
Solid Pipeline with Leading Fund Managers
Our strength lies in our extensive experience handling alternative products, which has earned us the trust of global asset management companies and enabled us to build up an extensive network of fund managers across the globe. We will continue to enhance our product lineup in order to meet the expectations of our clients, as a partner that connects investors to asset management companies in Japan and overseas.
Asset Management Services Provided by the Mitsubishi UFJ Trust and Banking Group
The Mitsubishi UFJ Trust and Banking Group provides optimal solutions for investors through its asset management and administrative services. We will continue to collaborate with Mitsubishi UFJ Trust and Banking Corporation and its group companies to further improve our services.
Information on asset management services provided by Mitsubishi UFJ Trust and Banking Corporation
This link will connect you to the

To view this site, please click YES button.
If you do not wish to view, please click NO button.
No